Coming up in the next couple months, I'll be at several conferences where I'd love to meet you! This week, Austin beckons! At South by Southwest Interactive, I'll be doing three panels. On Saturday, What Women Need to Succeed will explore women in technology–what it takes to make your mark and succeed in the tech world we love. Are women really different? On Sunday, I'll do a panel with Greg Rewis of Adobe on Responsible Web Design. And finally, on Monday afternoon, we'll discuss where WaSP has been and where it's going in Don't Break the Web.
On April 14th, I'll be presenting a three hour session at the National Association of Broadcasters (NAB) in Las Vegas, In-Depth: Using New Media with Adobe Dreamweaver.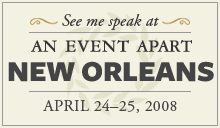 On April 25th, In the great city of New Orleans (right before the first weekend of the Jazz Fest!),

"_blank">An Event Apart

will take place. Jeffery Zeldman and Eric Meyer invite you to come join us. I'll be presenting Design Challenges, Standards Solutions. Practical, real-world solutions to common problems. If you mention my code -AEASULL- you'll get a $50 discount. Go for it, it will be a great conference! And plan to stay for JazzFest on the weekend.

On May 5-7, Web Design World Chicago will be in the Windy city. I'm presenting two CSS/Dreamweaver session there: CSS-Based Layouts with Dreamweaver CS3 and CSS Problem Solving with Dreamweaver CS3. You can receive $300 off the price by using the code – SPSUL – when you register!

May 18 & 19, I'll present two sessions at HOW Design Conference. A three hour session, Styling With CSS in DW CS3 will be on Sunday. And Common Mistakes Print Designers Make on the Web will be on Monday followed by a book signing. Yes, Mastering CSS with Dreamweaver CS3 will be released — finally — on April 11th! w00t! (Be sure to sign up soon since the early bird discount only lasts till March 28th!)
In Orlando in June, TODCon returns, but we'll talk about that more soon. Come see me, introduce yourself, enjoy all the speakers at the above conferences. Meet you there!
This past January, on the way to MacWorld, I stopped off at a women's JS learning day at Precise Moves Chiropractic office in Redwood City.